There are countless articles and blog posts out there about how you should turn your hobby into a revenue stream and maybe eventually quit your day job. I'll admit I got swept up in this craze, which is why I opened an Etsy shop. I mean, it'd be pretty freaking awesome to do work you love and be your own boss. But I don't think this is the right move for everyone.
So if you're wondering whether you should start making money from your hobby, or maybe you just started down that path but still aren't sure, hopefully this post will help.
Figure out why you want to turn your hobby into a business.

Are you doing it because the internet keeps telling you to follow your passion and quit your day job? If so, maybe you need to take a step back and reevaluate things. It's perfectly okay to work in an okay job and come home to an enriching hobby. Think of Jerry (or was it Terry?) from Parks and Rec. His job seemed boring and everyone picked on him, but he had an amazing family and a painting hobby he got to come home to every day. His job, certainly not a dream job by any standards, was how he could support his family and his hobby. Don't let the internet tell you that you're supposed to love everything about your job — you don't have to.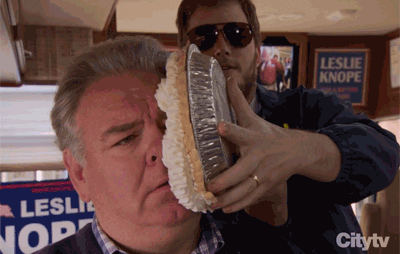 via GIPHY – Poor Larry.
Perhaps you are in need of some extra cash. Selling jewelry on Etsy gave me a little bit extra pocket change so that I could afford to go out with friends occasionally. This was before I got a part-time job on campus, so having some income as a college student was great. However, keep in mind that it will take a little while to start seeing any profits.
Your hobby will become your job.
And if you start out with a side-hustle, it will become your second job! When something you love becomes your job, the overjustification effect can come into play. This is a psychological effect that once you are externally rewarded for an activity that you naturally enjoy, you will start to expect an external reward, like money, every time. The external reward essentially decreases your intrinsic motivation to do that thing. (Read more about the overjustification effect on Wikipedia: https://en.wikipedia.org/wiki/Overjustification_effect.)
I have definitely experienced this effect. I used to enjoy things like making jewelry and blogging just for the fun of them, but once I opened my Etsy shop, my perspective shifted. Suddenly, if I didn't think it would make me money or garner more views in my shop, I wouldn't do it. If you've got extra time on your hands, you can probably tell from the archives on this blog where I stopped posting consistently and eventually stopped. My thought process was that a blog post about lasagna probably wasn't going to get me any sales for my handmade jewelry, so I never wrote that lasagna post.
Having time to do something you enjoy is perfectly okay!
Sure, a little extra income would be great, but if things are that tight, maybe look at cutting back on other expenses before deciding to turn your hobby into a business. There is much to be said for rest and relaxation. Find an activity, preferably not related to your day job, that recharges and challenges you. (Binge-watching Netflix in your pajamas all weekend doesn't count as a hobby.) Picking a hobby unrelated to your day job will help round out your skill set, at least that's what Elliott Hauser said in a post on Medium titled "The Power of Exactly One Serious Hobby". (Check out the full post here: https://medium.com/@hauspoor/the-power-of-exactly-one-serious-hobby-a6550c008128.)
You don't necessarily need to choose only one hobby for the rest of your life. People tend to change over time and what brought you fulfillment as a hobby yesterday may not do the same today. However, I do think that it is probably best to focus on one hobby at a time so that it can serve as something to ground you when life gets crazy and stressful.
---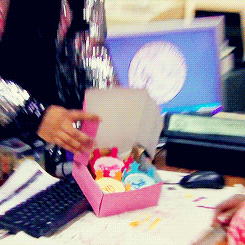 via GIPHY – Don't forget to treat yo'self!
In summary, if your hobby is your way of treating yourself, relaxing after a stressful day, or something to keep your spirits up during your boring day job, maybe you should just keep it as a hobby. We all need time to wind down and recharge, and that can become difficult when the thing you once enjoyed becomes work and you get to come home to more work after a day at the office.
---
Further Readings:
"When a Hobby Should Stay a Hobby" by Jess Van Den and Amanda Adams from episode #130 of the Create & Thrive podcast (www.createandthrive.com/130-when-a-hobby-should-stay-a-hobby-with-amanda-adams)
"Screw Finding Your Passion" by Mark Manson (markmanson.net/passion)
"Not Just a Hobby" by Jessica Seigel from the Feb. 2002 issue of Working Mother (books.google.com/books?id=65_fR42lpKYC)