I actually read more than one book this month. I read two. Aren't you proud of me? They were both pretty quick reads and right within my usual genre of fantasy/sci-fi. I thoroughly enjoyed both of them and highly recommend them. So far this year I've read 16 books, which is two more than I've ever read in one year. I'm about 500 pages short of reading the most pages in one year, so I'm pretty confident I can beat that too. And I'm three books ahead of schedule for my Goodreads 2015 Reading Challenge, so I might bump that up by five books again. Challenges are supposed to be challenging.
Books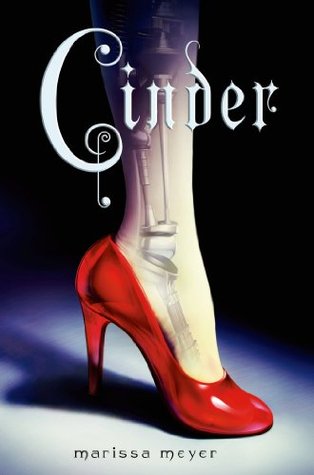 I'd heard of this book back in November 2012 when Marissa Meyer wrote a pep talk for NaNoWriMo. (Fun fact: This book got its start during NaNoWriMo.) I don't know why I didn't pick it up sooner, but I guess I thought that a futuristic retelling of Cinderella with cyborgs was a strange concept. Fast forward three years and practically everyone is reading it and raving about it, so I figured I ought to check it out. It reads fast, the world building is awesome, and the advanced technology in it seems very plausible, but some of the politics do not. Anyway, the book follows Cinder who is a working class teenage girl and the best mechanic in New Beijing. She's also a cyborg, meaning that she's part human, part robot. An accident when she was 11 left her badly injured and doctors replaced several of her limbs with artificial robotic ones. She doesn't remember anything from before the surgery. Cyborgs are basically ostracized by society, and especially by her step-mother who was left to care for Cinder after her adoptive father passed away from the plague, which has become an epidemic. Cinder of course has two step-sisters who are all excited about going to the annual royal ball, and of course Cinder isn't allowed to go. There is even a fairy godmother and missing shoe of sorts and an unlikely romance between Cinder and the prince. It hits all the elements of the original Cinderella but in a futuristic sci-fi setting. However, you can see the major twist coming from miles away and that kind of ruined some of the suspense and had you wondering when in the world the characters would catch on. This is the first book of The Lunar Chronicles, and the final one is set to come out this November.
I had been meaning to save this book for a little while, but I found that I couldn't wait any longer to return to Middle Earth. This book takes place before The Lord of the Rings and sets it up and introduces the reader to Middle Earth. So from that aspect, it might be smart to read The Hobbit first, but I don't think it's necessary. The Hobbit is more lighthearted and less complex than LOTR, making it a story for all ages. Bilbo Baggins, a very respectable hobbit who doesn't do anything unexpected or go on any adventures, is visited by Gandalf who is looking for someone to go on adventure. Bilbo declines any adventures, but invites Galdalf for tea anyway since it's polite. The date for the tea arrives, and Bilbo hopes that the old wizard has forgotten all about him. He finds that is not at all the case and over a dozen dwarves and Gandalf show up on his front porch, in need an additional someone to go on an adventure. A terrible dragon named Smaug stole all the dwarves' gold and trinkets many years ago and they want to get it back and slay the dragon. Bilbo finds himself embarking on a journey to a far-away place and leaving all the comforts of his hobbit hole behind, uncertain if he will ever return. And like any journey, there are unexpected obstacles along the way. This story was originally written for Tolkien's children, so the narrator occasionally interjects in the first person, making it feel as if you're being read to. The only things this book lacks are female characters (I couldn't find any), and romance. Despite this, it is still a worthwhile read that contains little nuggets of wisdom for all ages.
Beverages
Coca-Cola
Okay, so I haven't actually drunk this one, but it has my name on it which is why I'm including it in here. My mom found this for me and I was so happy because up until then, I could only find misspelled ones. (That's right. If you spell Stephanie with f's and/or y's, you're misspelling it.) Anyway, I'm glad someone at Coke knows how to spell.
Red Lobster's Peach Lemonade
I had this the other day at Red Lobster, and wasn't sure how it would taste based on the name alone. It was delicious and it took a lot of self-control to not drink it all at once. I could taste both the peach and the lemonade, and nothing seemed to overpower the other. It was really good and really addicting and I recommend you try it if you ever get the chance.