I didn't read as many books this month as I did in March or April. The three books in total came out to about 1,129 pages, so not a bad month reading wise. One was a fantasy, one a murder mystery thriller, and the other a young adult alternative history. Overall, a very diverse month.
Books
The Return of the King: Being the Third Part of the Lord of the Rings by J.R.R. Tolkien
"A book with more than 500 pages"
Originally, The Lord of the Rings was the trilogy I was planning to read for the Popsugar challenge. Then I read the note on the text at the beginning in which it says that The Lord of the Rings is not a trilogy, but one big novel sometimes published as three separate volumes. (The movies, however, are a trilogy.) For accuracy's sake, I decided to change it from the trilogy to the book with more than 500 words. Anyway, I really loved this book (meaning The Return of the King). There's bromance and romance, but it adds to everything and makes you feel happy, and not at all a waste of words. A few times I had to set it down because I was scared of what would happen next, but I needed to know, so I had to keep reading for hope that it would be okay. Surprising twists caught me off guard several times and I was glad I hadn't seen the movies yet because I think they would have ruined that initial surprise that wasn't quite the same in film. There was only one loose end that didn't get tied up, but Tolkien did that on purpose, and leaves it up to the reader's imagination. Also, I cried at the end of the book. I didn't find the ending itself to be intensely tear-jerking, but I think I cried mostly due to the fact that it was over. And I didn't want it to end the way that it did, but it made sense. I think that's all I can say without spoiling everything if you haven't read the book or seen the movies. Overall, The Lord of the Rings is one of those books that helped me get through a bit of a rough patch. The best books are those whose meaning goes beyond the pages, and The Lord of the Rings certainly belongs in that category. Tolkien sprinkled little nuggets of wisdom throughout the book that everyone can benefit from reading.
Déjà Dead by Kathy Reichs
"A book based on or turned into a TV show"
This is the first book in the saga surrounding the life and work of forensic anthropologist Temperance Brennan. They turned this into the TV show Bones, which is just finishing up its tenth season. I like the show better than the book, to be honest. This book reminded me a lot of the show Agent Carter in that the protagonist is a female trying to gain respect in a male-dominated profession. Brennan is convinced there's a serial killer on the loose, but she doesn't have enough evidence to convince the Montreal police, which is where the book is set. One scene in the book is a two-page dialogue about saws and how different strokes and types of saws leave certain marks on bones. Another two-page scene, the reader gets an in depth explanation on how Brennan photoshopped a picture to see more clearly a dental impression in a piece of cheese. If you're really into forensics, you'll probably find this interesting, but I thought it was a bit out of place in a novel. It does makes sense that Reichs chose to include these lengthy descriptions since she herself is a forensic anthropologist. The book was relatively entertaining, however, and did have a few shocking twists and turns. I also find the title to be very appropriate and clever. Deja Dead makes you think that there is recurring death, which ties in with the serial killer aspect. It translates into "Already Dead," which ties in with the sad reality that while family and friends were looking for their lost loved ones, they were already dead.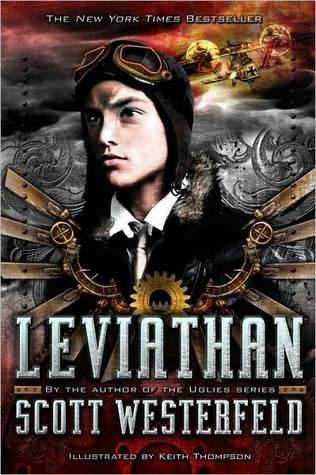 Leviathan by Scott Westerfeld
"A book set in a different country"
I'm pretty sure this is the first alternative history I've read. It takes place in England, Austria, and Switzerland at the beginning of World War I. It follows two characters, Alek and Deryn. Alek is Archduke Ferdinand's son who flees his home after his parents are assassinated. Deryn is a girl who disguises herself as a boy to join the British navy. Anyone allied with Germany is called a "Clanker," referring to their prowess with machinery and mechanical engineering. They have created large war machines that walk on two legs. The British, on the other hand, are called Darwinists for their prowess with biological engineering and creating living, flying war beasts that are their own ecosystems. The sequence of historical events is the same as occurred in real life, but the weapons are far more advanced than even anything that is now considered modern. It seemed to me that this book was more like the first half of a book as opposed to a whole book. It just felt really short.
Beverages
Tazo Organic Baked Cinnamon Apple Rooibos Tea
I don't think I've ever had an organic tea before, and this one is delicious. The rooibos gives it a vanilla-y taste, so it's like you're drinking liquid apple pie a la mode. It pairs nicely with a good book.
Crystal Light Lemonade Mix
Lately it's been pretty warm, so I've turned to lemonade to quench my thirst. This stuff really hits the spot and is less than 10 calories per packet. It's great having a deliciously flavored beverage that you don't feel guilty about afterward. And you don't have to make gallons of it at a time like other lemonade mixes. It's great on sunny days spent outside reading a good book.
I don't know about you, but May went by really fast. In only two days it'll be June already. If you're curious to see what I'm currently reading, check out the sidebar and/or friend me on Goodreads. Also, follow me or come back on June 27 for the next Books and Beverages post!